MoonCat's Astrology's
Spiritual Journeys
I invite you to visit these places of light, love, peace and prayer, from many lands and faiths
This Dove of Peace flies from site to site, through as many countries as possible.
Please take this dove with you, and place it on your site, as a symbol of World Peace.
PRAYER COLLECTIONS
Messages from The Dalai Lama of Tibet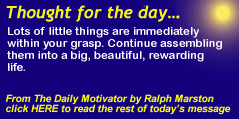 INSPIRATION & POSITIVE AFFIRMATIONS
Four Gates Self Improvement Audio & Video Resources
~Some Favorite Nervous Nelly Pages~
Someone Loves You Somewhere Heart Whispers Cosmic High Star Smiles Misty Morning
NAAM ROOP
A tribute to the Divine
by Arpana Caur and my good friend ~ Shailendra Gulhati ~
~ Another Source for this Wonderful Book - Click Here ~
There is a flight to timelessness.
It is not a miracle.
It is your true nature,
your own Self.
The miracle,
is that this timeless self came to our world of space and time
....and in so many forms!
When I first saw Arpana's paintings, I knew she had God's gift
with colours&ldots;..
Can there be a jugalbandi of Name and form, I thought,
can an artist and a poet celebrate God's creation together?
Naam Roop is a tribute to the divine,
it's manifestations and it's plays,
all of which, are rooted in the One player.
DREAMS
Steve Bennett: Flight from Udun
Founded by Edgar Cayce - health, healing, dreams, earth changes
TEMPLES TO THE GODDESSES & GODS
The Goddess in World Mythology - Paintings by Sandra M. Stanton
Ganesha - Remover of Obstacles
Ancient Egyptian Virtual Temple
MEDITATION
11 Wonderful Guided Desktop Meditations
YOGA
Online Meditation Center
MANDALAS
Mandalas on the Web - extensive resource
SPIRITUAL ART
by SK Designs
PAGAN & SHAMANIC TEACHINGS
Scandinavian Center for Shamanic Studies
COSMOLOGIES
Kabbalah - Mystery, Beauty, Magic
Do you have any links to suggest? Please let me know!
Free Your Mind
Ancient and Lost Civilizations
Theosophy - Madame Blavatsky.net
Christian Reincarnation - Near Death Experiences
THE ASCENDED MASTER NETWORK - Summit Lighthouse
Hermetic Order of the Golden Dawn
FUTURE
WORLD PUJA - Peace and Planetary Healing
Discover ancient Mayan Wisdom about mega-cycles for humanity, and the Sun's impending alignment with the Galactic Center in Dec. 2012
My Spiritual Beliefs
I humbly offer some of my own beliefs about our existence on earth & our spirituality as human beings. Blessings Always!
I believe in the power of the Stars and Planets in our lives. As archetypes of human consciousness - they are integral to our being and consciousness on the earth
I believe in a higher power that watches over us. This power is our friend and constantly available guide.
I believe in the mysterious and unpredictable laws of Karma
I believe that our spirits reincarnate until we reach a state of higher consciousness in which we may choose to be released from the bonds of incarnation, and may ascend into a higher plane of existence. This may take many lifetimes on more than one world.
I practice divination - a means of accessing divine consciousness in order to help and heal others. My practices are aligned with a belief in Christ Consciousness as the highest emanation of good for all humanity and creatures on earth at this time
I also believe that....
Ultimately, the Golden Rule must be our guiding force
Mercy and Humility must rule our actions
Spirit guides are available to us at all times to help us on our journeys
Angels exist to guide and protect us
Each of us may tap into a higher power at any time, and know deep inside what is right
We all have the power to heal
Fear immobilizes us and takes us away from the light of God. We must learn to conquer fear.
Whether we find our inspiration from Hindu Gods, Buddha, Goddesses, Christ, the Ancestors or any other number of enlightened beings who offer us their love and spiritual guidance - we are always on the right path if our intentions are Pure.
All faiths when practiced truly are united in service of GOOD (God)
AMEN!
MoonCat copyright 1995
by Danielle A Ricard, all rights reserved
MoonCat's Astrology,com established 1999
One God Icon by...